4-1/8 x 8-7/8 Peel and Seal Left Window Insurance Envelope with Inside Tint – 6828P (replaces #6829)
Item Number: 6828-P (replaces #6829)
The faster you get your insurance claim forms in, the sooner you'll receive payment!
These 4-1/8" x 8-7/8" envelopes, designed specifically to hold your insurance forms, are a real time saver. Because the envelopes are pre-printed in black ink with your business name and return address – and the insurance company's name and address shows through the left-side poly window – there's nothing to address. Includes an inside tint for extra security.
You'll especially like the convenience of the peel and seal adhesive (The paper strip keeps the adhesive free of dust and other small particles – just peel the strip and close).
Also available with gummed flaps.
4-1/8" x 8-7/8"; 24# white wove paper; peel and seal adhesive; inside tint; 7/8" x 4" poly window located ¼" from left and 11/16" from bottom; 1000 envelopes per carton (500 envelopes per box).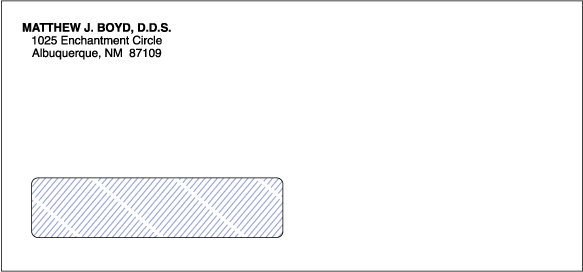 Options
Your cart is currently empty.