4-1/8 x 9 Imprinted Peel and Seal Left Window Envelope with Inside Tint – 6180-P (replaces #6180)
Item Number: 6180-P (replaces #6180)
Envelopes that are pre-printed with your practice's name and return address not only look great (and certainly look quite a bit better than envelopes with rubber stamped or stickered return addresses!), they also save valuable staff time.
These 4 1/8" x 9" white envelopes have a 1 x 3 poly window on the left side. An inside tint prevents the envelope contents from showing through. They also have peel and seal adhesive (just peel the strip and close).
Price includes your business name, return address and logo imprinted in black ink.
4 1/8″ x 9; 24# white wove paper; peel and seal adhesive, inside tint; single 1" x 3" poly window located 5/8" from left and 7/8" from bottom; 2000 per carton (with 500 envelopes in each individual box within the carton).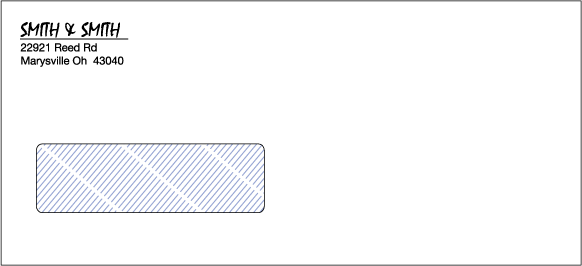 Options
Your cart is currently empty.