Quicken/Quickbooks Compatible Checks: Item 4130
Item Number: 4130
1 check and 2 vouchers per sheet
Imprint is printed in black ink
---
CHECK REMINDER
Please submit a signed and dated MICR spec sheet with your first order or if you change banks. These sheets are available from the new accounts department of your bank. Please do not submit deposit slips.
Submit a current check sample with your order. Write "void" on the signature line. Verify all imprinted information.
Indicate your starting number.
Email (sales@envelopesdirect.com) or fax (505-891-8600) the above information, including your imprint information, and we'll email you back a proof. If faxing, be sure to include an email address where we can reach you.
Please allow 5-7 working days for production time.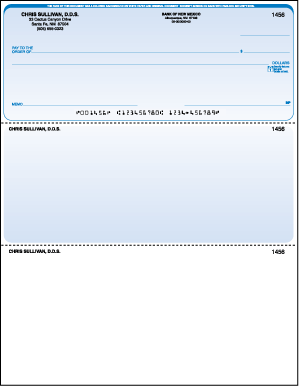 Options
Your cart is currently empty.