Free shipping on quantities up to 5,000*
Quick turnaround! Our business envelopes ship within 3 to 5 business days.
* only good for orders placed online. Not available on catalog or booklet envelopes.
Envelopes Direct only ships to the continental United States.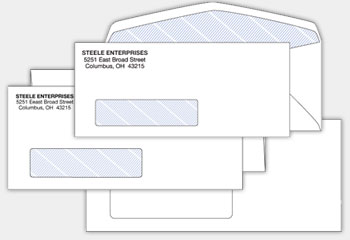 # 10 Imprinted Business Envelopes
WE DO WINDOWS!
#10 Envelopes with and without inside tint - regular envelopes, left-hand windows, right-hand windows - we have them all!
Self-sealing flaps available.
Donation & Tithing Envelopes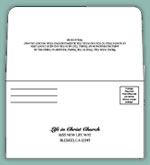 Wider variety of colors than other envelope shops - donation envelopes available in White, Blue and Green!
Free artwork setup! Tell us what you want to say - we'll do the rest!
Tithing envelopes available in many colors too - call for our selection.
Envelopes ship within 5 business days after proof approval.
Large Business Envelopes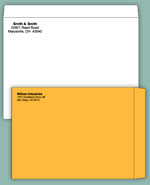 Mail your oversized correspondence and business papers in our 9 X 12 and 10 x 13 Catalog and Booklet Envelopes.
Both sizes available in White Wove and Brown Kraft - we have what you need to keep your business moving!
Save addressing time! 9 x 12 Window Catalog Envelopes also available!
1099 Express Forms and Envelopes
#9 Double Window with Inside Tint & Important Tax Return Document Enclosed on front, and perforated paper.
IRS Form Software

1099 ExpressTM files IRS Forms 1096, 1098, 1099, 5498, W-2 and W-3.